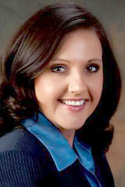 Kimberly Sikes of Sikes & Rachel, P.C. is well-known locally for providing results-oriented, trustworthy representation. Kimberly Sikes maintains a diverse litigation practice focusing on energy-related litigation, real estate litigation, and complex contract disputes.
Ms. Sikes graduated from Cleburne High School, and obtained her bachelor's degree, cum laude, from Texas Christian University, graduating with departmental honors in Political Science. She was one of twelve students to receive the TCU Outstanding Student Leadership Award. After earning a law degree from Baylor Law School, she elected to return to Johnson County to practice.
Kimberly Sikes began her practice in oil and gas matters and represented land owners in contract negotiation and document preparation for their transactional work. Ms. Sikes' experience includes analyzing and interpreting deeds, contracts, agreements, assignments, and instruments affecting surface estates, mineral estates and royalty interests. She has advised clients on matters regarding the negotiation, interpretation, and drafting of complex oil and gas leases, payment of royalties, and interpretation of contract terms.
Ms. Sikes, the lead real estate attorney, also represents clients in purchase and sale agreements and in the performance of due diligence. She is experienced in commercial and residential real estate transactions, including purchases, development, sales and leasing of office buildings and mixed-use projects, and also in the acquisition and sale of ranch properties. She represents purchasers and sellers in both improved and unimproved real property transactions, and landlords and tenants in retail and office lease negotiations.
Kimberly Sikes advises clients in the initial organization and on-going operation of business entities, including corporations, LLCs, Series LLCs, and partnerships. Ms. Sikes represents clients with respect to marital property matters, including premarital agreements, partitions of community property, post nuptial agreements and divorce actions. She is also an aggressive advocate in will contests and contested guardianship matters.
In addition to her professional career, she is active in a wide range of civic organizations including current volunteer board leadership positions with the Cleburne Chamber of Commerce, the Cleburne Economic Development Foundation, and the Texas Health Resources-Cleburne Hospital. Past volunteer board positions include Johnson County Teen Court, Women's Haven of Tarrant County, Zonta International, and the Johnson County Bar Association. Ms. Sikes has served as a Legal Delegate to Egypt with People to People Ambassador Program. She is also certified by the American Arbitration Society as a Mediator.
Doctor of Jurisprudence, Baylor Law School, 2002
Bachelor of Arts in English, cum laude, with Honors in Political Science, Texas Christian University, 1999
Mediator Certification, American Arbitration Association, 2005
Mediation Dynamics, Family Law Certification Course, 2006
Johnson County Bar Association, Officer, 2006-2009
State Bar of Texas, Licensed by the Texas Supreme Court to practice law in Texas; Member of State Bar College, Pro Bono College of the State Bar, Volunteer for Legal Aid, 2003 – 2012
People to People Ambassador Program, Legal Delegate to Egypt, 2008 
Zonta International, Member 2005 – 2010, Vice President, 2009
Teen Court Volunteer Coordinator and Judge, 2010 
Cleburne Chamber of Commerce, Board of Directors, 2007 – present, Chairman of Board, 2014
Attorney of the Year Award, CASA, 2008
Texas Health Hospital, Cleburne, Trustee, 2008 – present
Cleburne Economic Development Board, 2008 – present, Executive Board, 2012 – present
Co-Producer of Organized CLE video, In the Best Interest of a Child, 2007– 2008 
Women's Haven, Ft. Worth, TX, Board of Directors, 1999 – 2006